A Great Great North Run Weekend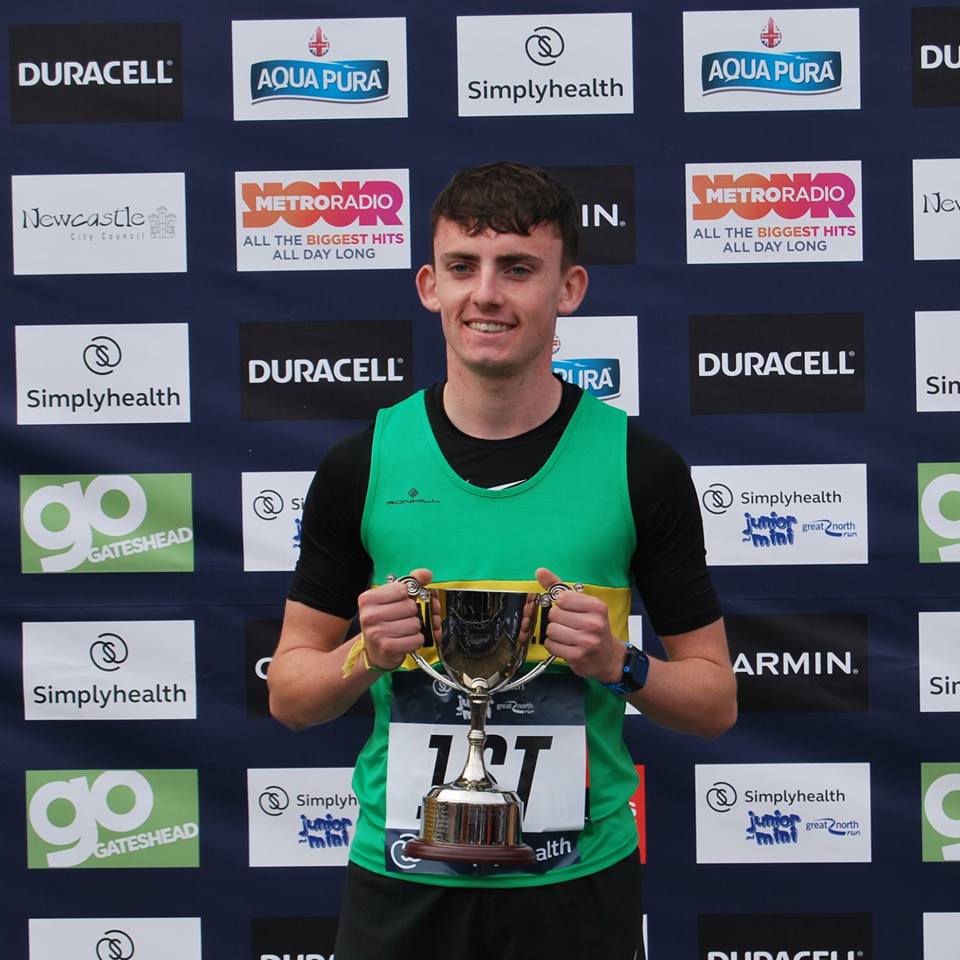 What a weekend it was! A Royal visit, trophies galore for the juniors and a sea of Green and Golds for the big event. Yes, it was Great North Run weekend.
The nerves and excitement hit me every year, without fail. There's just something so special about it. And this year it was catching. The full James' contingent was out for medals. Mary was taking part in her first Mini Run. She's always been the lazier of the two and usually only gets a few yards before blocking my path and demanding I pick her up. I didn't hold out too much hope for a near one mile run. But, as usual, she set out to surprise me. Always on the sidelines now was her moment to shine and boy did she take it. I've never seen her so excited. She let go of my hand the minute we crossed the start line, her little legs were running on clouds of sheer elation. She high fived all the way round and just as she was about to flag, the Wallsend support crew spurred her onto a sprint finish. The beaming smile on her face as she was presented with her medal is one I'll never forget. To top it off she raised a £150 for St Oswald's Hospice.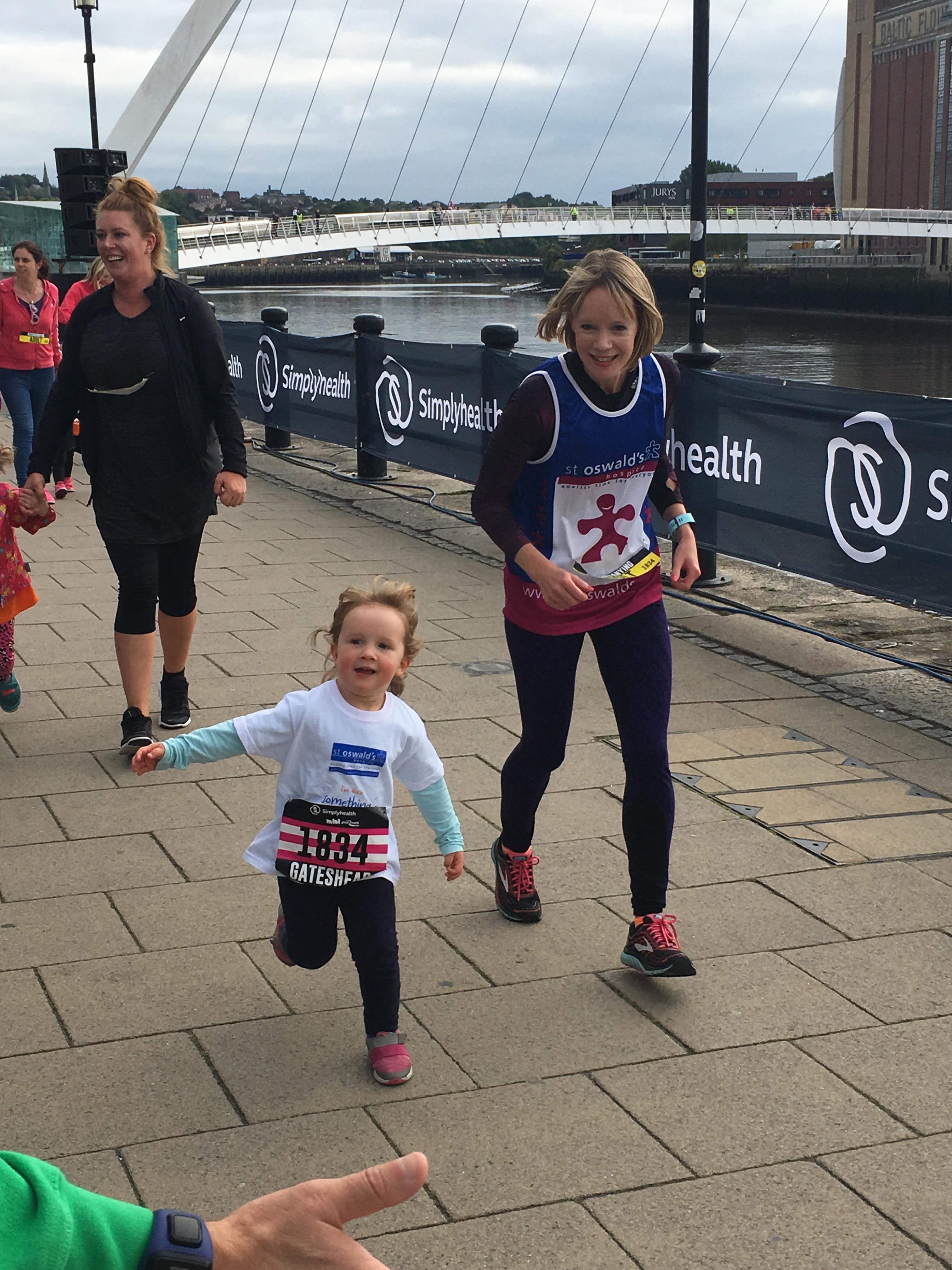 And that my friends is what it's all about isn't it? All of that. And it inspired me to take a leaf out of Mary's book and do the same. But before I go onto the big one, it's time for us all to bask in the glory of our Green and Gold Juniors. What an exciting band of talent we have there. Four podium finishes from Saturday's races is a phenomenal achievement.
This year it was gold for our super Sam Charlton, taking first place in the Junior run in 12:16. Amazing running Sam, we are all so proud of you. Well done to all the juniors: Logan Haslam, Adam Feenan (5th), Joshua Oates, Elexa Haslam, Ernie Noble, Elena Walker, Luke Pichler, Cara Ward, Alexa Walker, Zara Ratcliffe, Millie Train, Daniel Broderick, Jack Mallam, Martha Bowens, Katie Motion, Theo Day, Sophie Feenan, Elyse Feenan, Kamran Mohammed, Hannah Walker, Zoe Kate Foster, Luke Pichler. It was a pretty hairy start for some but they showed guts and determination to get up and carry on, despite being knocked down at the start.
Our mini runners did us proud with four podium spots between them: Shay O'Gara second in his race and Matthew O'Donnell, Sophie Motion and Sofia Clark third in theirs. All got to be honoured at a special ceremony. Wonderful memories to take home.
Saturday's weather was cool and drizzly so it was of course predictable that the sun should come out blazing the next day, just in time for the arduous 13.1 mile route from Newcastle to South Shields – the Great North Run. Bliss for spectators, hellish for us runners.
I really am shocking in the heat. Give me mud and snow any day. So I decided to do it the Mary way. With hubby by my side (this is what we have to do to get a couple of hours to ourselves these days) and the sun shining we settled into a comfortable pace. It wasn't going to get us PBs but it did mean we finished with big smiles on our faces. I grabbed the jelly babies, slapped a lot of hands, oggy oggy oggy'd until my throat was hoarse, sang, cheered, waved to all the cameras and even had enough in the tank for a sprint finish with Paul and Ross. I think it's the most fun I've had at a GNR. So I'll be doing the same next year.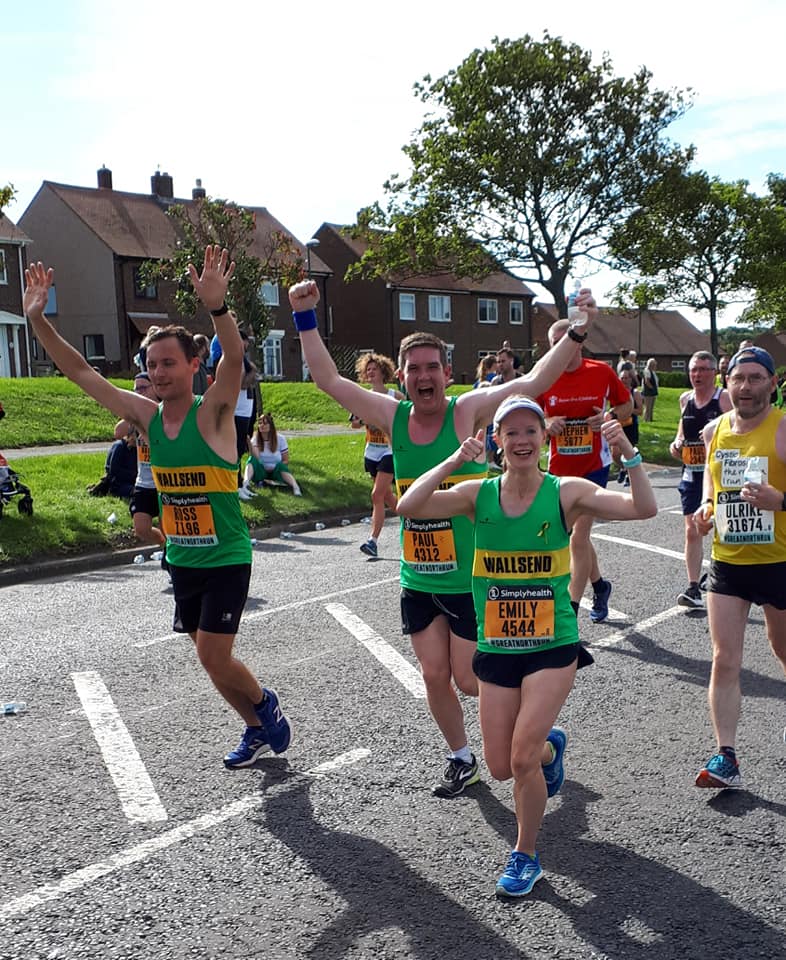 Congratulations to everyone who took part and a big thank-you to the Wallsend supporters along the way. It makes such a difference. And I must make special mention of Kerri Turner. A fairly recent addition to Wallsend Harriers, she took part dressed as an actual helicopter (you only have to see the photo to know I'm not kidding) to raise money for Great North Air Ambulance. We are so pleased to have you on our team Kerri. Massive well done to you.
So, I'm pretty sure this was the Green and Gold GNR team on the day (but please feel free to correct me):
Dave Diston, Andy Wigmore, Keith O'Donnell, Paul McAleer, Brian Hetherington, Joe Colligan, Alex Hemsley (first GNR), Jess Marriott (first GNR), Ray Flanagan, Neil Armstrong, Sam Proud, Adam Hamilton, Steve Armstrong, Steve Taylor, Paul James, Emily James, Ross Pichler, Brian Robertson, Ian Gowing, Michael Lindsay, Joy Blackburn, Sarah Wylie, Sarah Lynch, Paul Stubbs, Mike Costello, Stephen Sayer, Dave Hall, Leanne Smith, Liam Smart, Paul Heatherington, Mish Margison, Rob and Zahra Strettle, Gary Lewis, Steve Mallam, Jackie Garnett, Dave McPherson, Kerri Turner.
Same time next year gang?
Emily