Green and Golds 'Spring' into action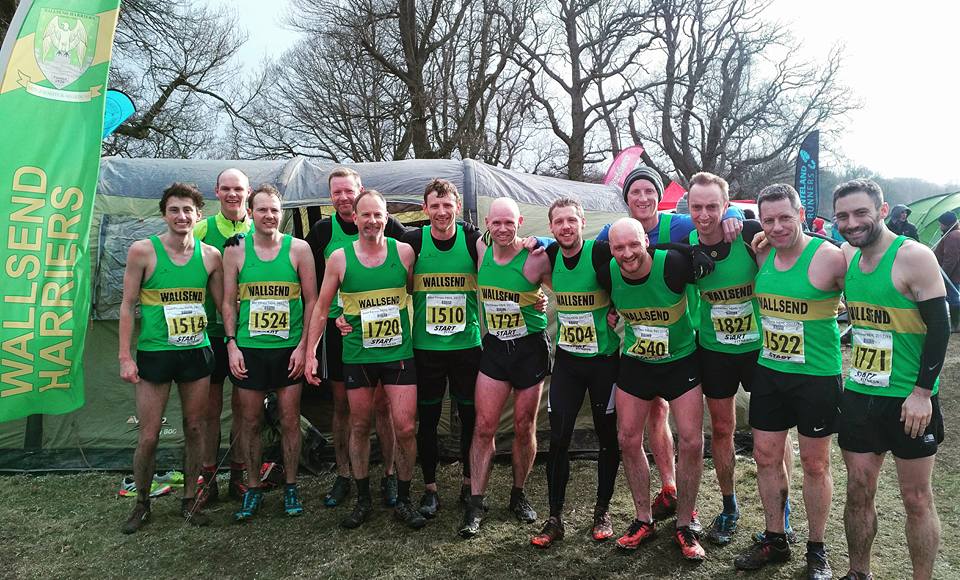 Well the weather outside's been frightful, but our performances have been delightful!
It's been another few busy weekends, with some pretty atrocious conditions but not enough to deter our faithful green and golds…
First came the final x-country of the season at Alnwick. Already postponed once because of the snow, the rearranged date unfortunately meant we were down on numbers. It also didn't result in finer weather. In fact, some might argue they were even worse, with gale force rain and sleet. Big respect for the hardy bunch of souls that braved the elements. I must pay particular respect to our small but perfectly formed team of three ladies, who turned up and gave it their all, despite not having a complete team: the wonderful Christine Stretesky, Sarah Graham and Nina Wilkinson.
But it was the men who took the day, showing very clearly that it is strength in numbers ladies (that's why we so desperately need more of us next season, pleeeeease). Over the course of the season they have turned out in force and put in a sterling effort to stay in division one. Thanks to all the guys who turned out at all of the fixtures.
At Alnwick our formidable band were: Dave Diston, Kevin Wilson, Andy Graham, Andy Wigmore, Darren Flynn, Simon Lyon, Mick Skeldon, John Young, James Torbett, Keith O'Donnell, Dan Weatherill, Denver Stretesky, Ian Gowing, Joe Colligan, Michael Lindsay.
So eighth overall and we're aiming for a top six next season!
Luke Pichler took a fantastic fifth place in the under 11 boy's race.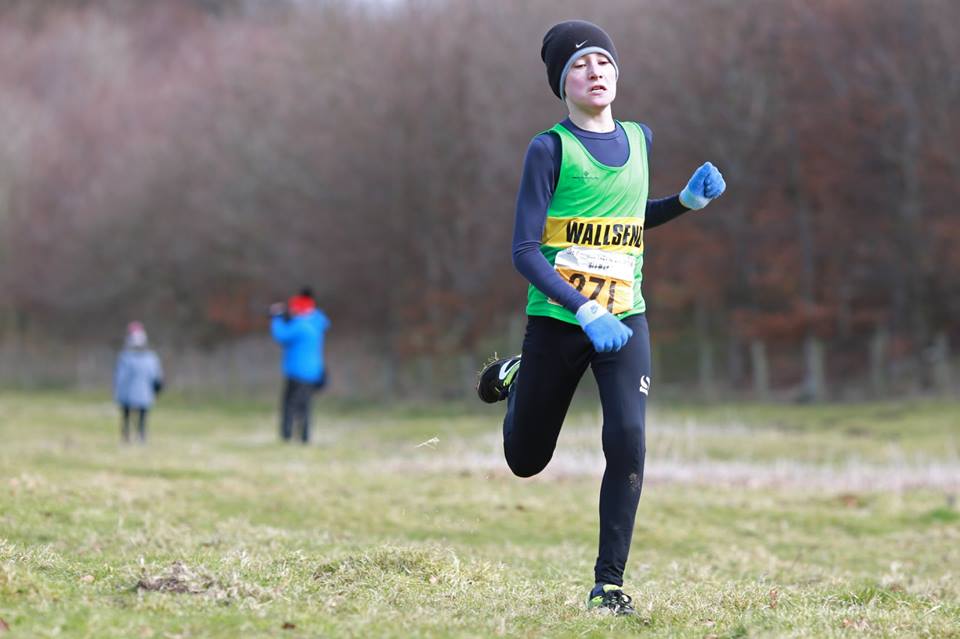 Full results here.
Meanwhile our super Sam Charlton only went and bagged himself an ENGLAND VEST with a sixth place finish at the English School's x-country Championships! We couldn't be more proud.
Elsewhere Millie became Yr 7 Northumberland Schools Champion at 60m hurdles with a PB and Jadzia got a massive 55cm PB in the shot put! Well done! And Alfie won bronze in the pentathlon at the NECAA & Open Indoor Pentathlon.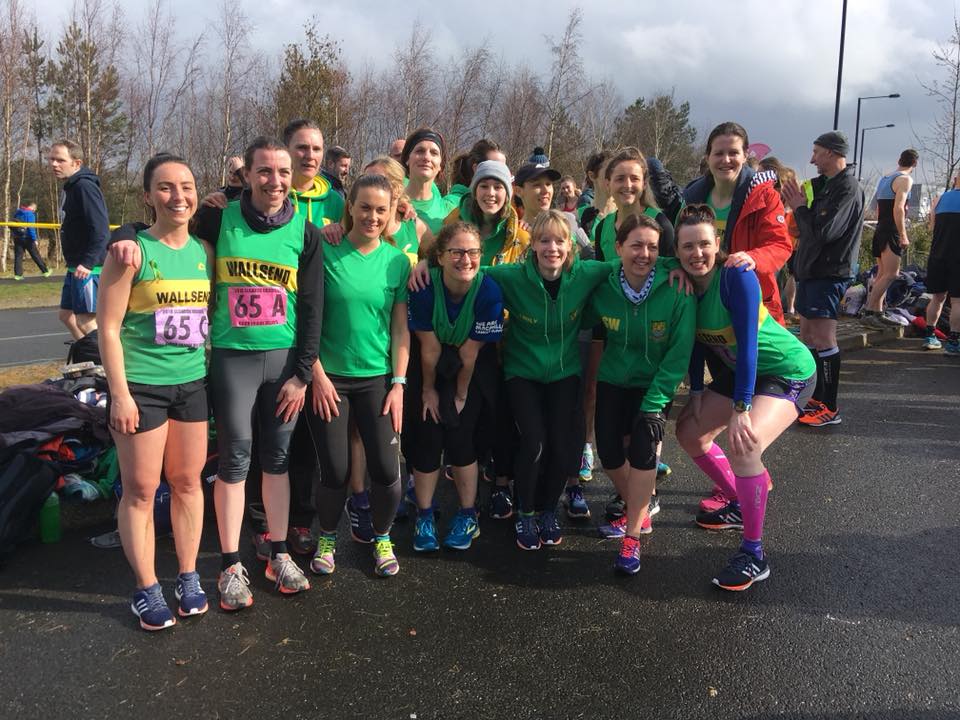 There was plenty of egg-citement (sorry) over Easter Weekend. First up there was the Good Friday Relays, always superbly organised by our friends at Elswick.
I was very proud to have the women matching the men for teams this time, with 10 teams out overall, plus our fab juniors Luke, Adam, Freya and Reuben.
There were some fantastic performances and plenty of PBs on what is a cracking, flat course, with each team member running a 2.2 mile leg.
Men's teams (out of 118)
Andy Graham, Simon Lyon, Matt Darbyshire, Denver Stretesky (19th team overall)
Joe Collins, Andy Wigmore, Dave Diston, Olly Aird (48th)
Gez Davidson, Paddy Dinsmore, Mick Skeldon, Barry Allsopp (5th)
David Hall, Stephen Taylor, Liam Smart, Joe Colligan (92nd)
Dave Collinson, Rob Strettle, Michael Lindsay, Brian Robertson (109th)
Women's teams (out of 114):
Erin Prior, Donna Thompson, Sarah Robson (15th)
Julie Williams, Sarah Graham, Anna French (40th)
Zahra Strettle, Laura Murphy, Julie Collinson (54th)
Jeanette Gibson, Christine Stretesky, Mish Margison (72nd)
Kayleigh Dunn, Sarah Wylie, Stacey Anderson (77th)
I must give a special mention to our amazing, inspiring Kayleigh who, this time last year turned up to support in a wheelchair. She was at the start of a long and tough journey and to see her a year later, not only on her feet but running in a club vest, was pretty incredible. She astounds us every day.
Full results here
Less than 48 hours later many of the same gallant band hit the coast for a tough and windy North Tyneside 10k (although we did manage a bit of sunshine at least).
Kevin Wilson put in an awesome performance, coming in 13th overall in a time of 36:43. Father and son team Mark and Matty Summers ran, with Matty making a 42-minute 10k debut (well done). There were seconds separating Andy Wigmore, Brian Hetherington and Mick Skeldon (all completed in just over 40 mins).
Our other Green and Golds running on the day were: Jack Armstrong, James Torbett, Paul McAleer, Joe Collins, Shaun Broderick, Graham Armstrong, Joe Colligan, Lee Walker, Dave Collinson, Brian Robertson, Julie Williams, Simon Williams, Nina Wilkinson (course PB), Ray Flanagan, Lee Evans, Jeanette Gibson, Paul Heatherington, Julie Collinson, Donna Thompson, Zahra Strettle, Mish Marison, Judith Smith, Robert McMahon, Lesley Cummings, Lindsey Broderick.
Full results here.
Don't forget our very own Terry O'Gara Memorial 5k is the next biggy on the calendar (Sunday April 22) and we really do need all of you out to support the club (through running, marshalling, results taking and supporting) and the memory of this wonderful man, our former chairman. It's a great morning, a PB course and there are plenty of prizes to be won so please spread the word. https://www.resultsbase.net/event/4141
You don't need to enter using the link above. We'll be taking names down and entering you on the club's behalf.
Bye for now
Emily