Elaine 'mud-dles' through spike drama to be crowned hero at Herrington
'Bring wellies! It's like a swamp' was the message posted on the North East Harrier League Facebook page on Saturday morning, just hours before the first x-country meet of 2018.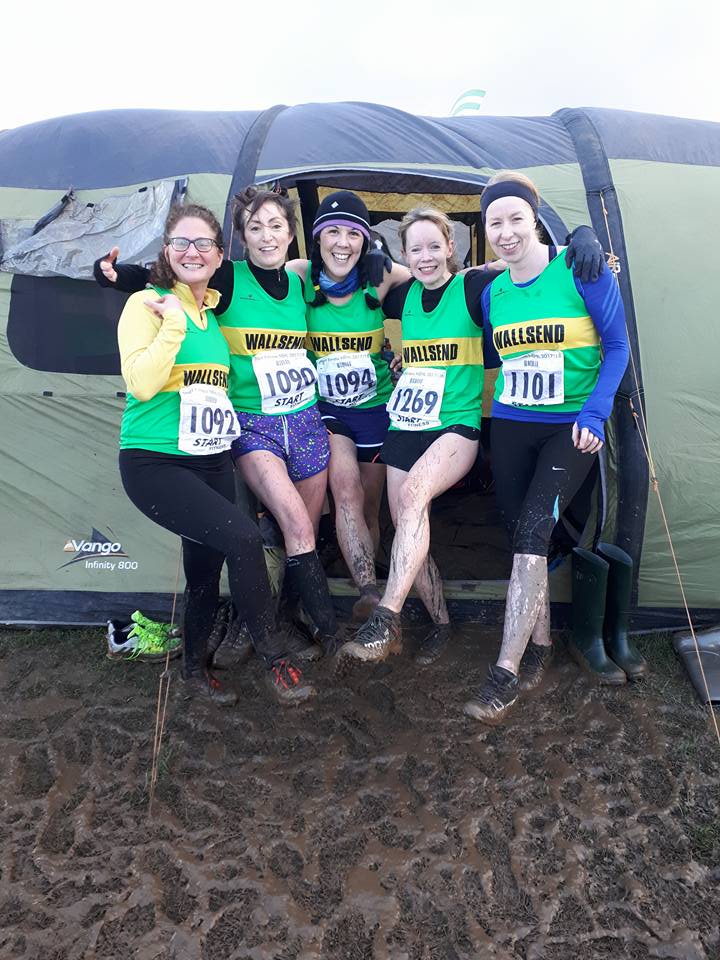 So I did. And it was! Our ladies team was small but perfectly formed once again. I sometimes wonder if it's the mud that's putting the women off but I say this to you… Embrace it. If you're prepared for it then there's no stopping you. Pack your wellies and spikes and get stuck in. When else do you get the chance to behave like a child and chuck yourself over hills and through puddles, jump over logs and squelch in mud? It's so much more fun than road racing. And because it's so varied it's over much quicker (ok, maybe not for the men). Ooh, and it's good for the skin (you'd pay good money for that sort of coverage at a spa).
So ladies I implore you once more to join our hardy team and jump on board the mud train!
Rallying cry over and on with the results…
Herrington Park was the venue. I think you've probably got the general gist of the conditions. It was also pretty parky and there was an unforgiving wind but, for the women at least, the sun did shine.
Our juniors did us proud with Luke Pichler coming an excellent sixth (even after falling in the swamp!) and Thomas Davidson also giving it his all in the under 11s category.
Elena Walker powered through from the fast pack to come 33rd in the under 15 girls. Our super Sam (Charlton) came second overall in the under 17 boys, and that was coming from the fast pack too! The winner was from the slow pack and had a good two and a half minutes on him.
Our gutsy women's team was Emily,  Elaine, Leanne Smith, Anna French and Christine S. This was Anna's first x-country after coming back from injury and Elaine ran in Gez's spikes after one of her own completely fell apart on the way to the toilet/bush just minutes before! I'm sure most people would have taken this as the perfect opportunity to bow out but not our Elaine. And hats off to Gez who sunk his feet into mud-soaked soles and ran a blinder shortly afterwards!
And three of the fab five (Elaine, Emily and Anna) decided they weren't finished with the mud and hills and got up the next morning to do it all again for the 8-mile Run for Bob in Whitley Bay! This time there was even a lake to wade through!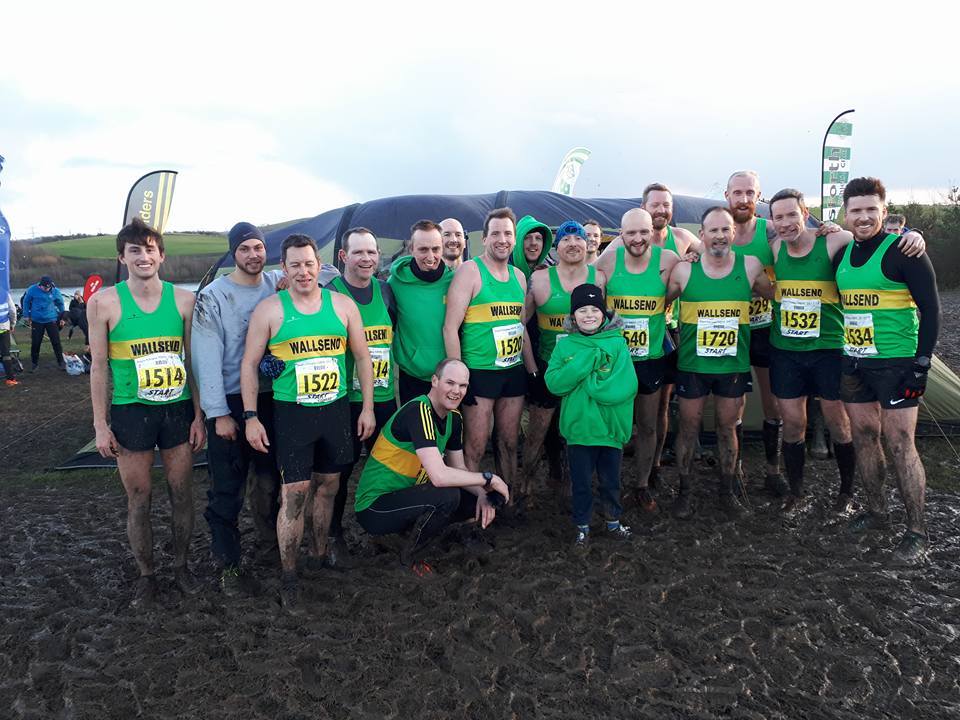 The men were out in force again, with 20 green and gold guys taking on a gruelling, three laps of a well and truly churned up course. This meant they had three and half teams taking part with the first team taking fifth position in Division One. They were:
Jordan Middlemist (making a very welcome return and coming a phenomenal third to boot!), Andy Graham, Simon Lyon, Matt Darbyshire, Kevin Wilson and Paddy.
Kevin Hood, Andy Wigmore, Dan W, Denver S, John Young and Paul McAleer
Gez, James T, Joe Collins, Steve Taylor, Keith O'Donnell and Darryl Roe
Michael Lindsay and Gary Lewis
Full results here.
Well done to everyone who took part and a big thank-you to all those who came out to support us. Also a big congratulations to our Julie Collinson who was first w50 at Kielder Dark Skies 10k that evening.
Next up in the Harrier League is Thornley Hall Farm, Peterlee on February 10. It's not too late ladies!
Emily