My mission to BeatBerlin42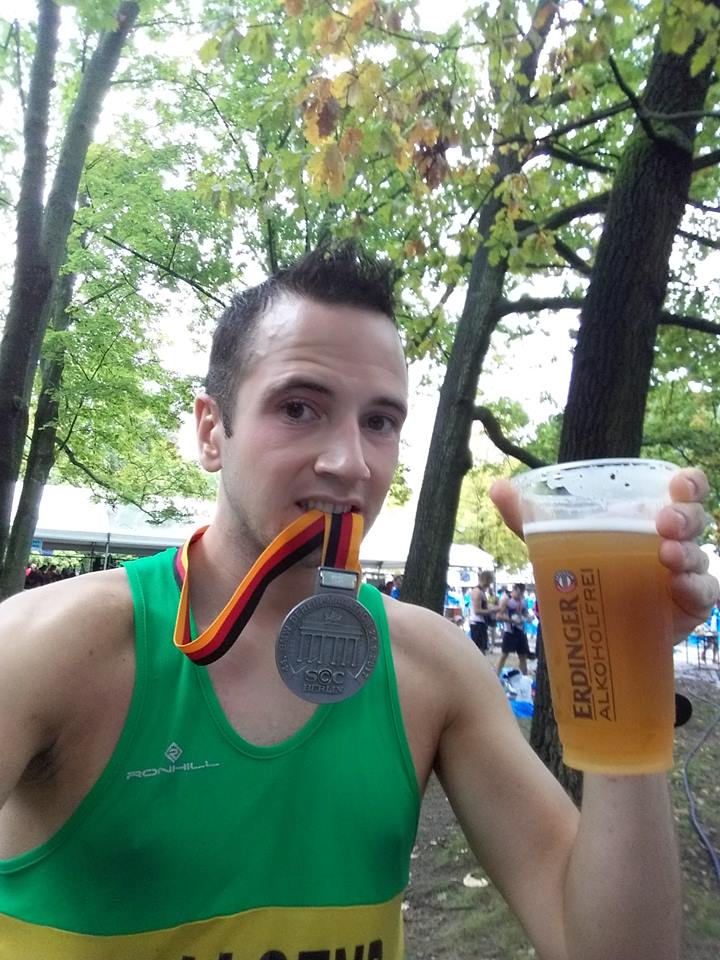 Training started as soon as I crossed the finish line of my last marathon (Stirling) in May 2017. My marathon times have recently been getting slower; therefore I was determined to take my training more seriously this time. After a year in Paris (see previous article), I was back training with the green and golds on a full time basis and feeling the benefits. My training routine included everything from spinning classes, parkrun, Tuesday and Thursday training nights to running the last leg of The Toby with the Harriers in August.
I'll not bore you with a race full report; however it is safe to say that the BMW BERLIN-MARATHON is one of the biggest races in the world, and that is for a reason. More than 40,000 runners take part in the race every year, and are cheered on by more than a million spectators lining the course (weather dependent, which I'll come onto). The course starts and finishes in the Tiergarten, next to one of the capital's most famous landmarks – the Brandenburg Gate – and takes a route via many more notable spots such as; the TV Tower at Alexanderplatz (Old East Berlin), the famous shopping streets of Kurfürstendamm (Old West Berlin) then onto Central Berlin including the famous Wall at Potzdammerplatz and Checkpoint Charlie in its final miles. My memory, and Garmin data show that it is also one of the flattest, and has long lengths of straight sections giving runners ample room.
Flying high after a PB of 1:27 at The Great North Run two weeks previously, when I hadn't set out for one, I felt good going into this race. I'd made a conscious decision to travel to Berlin on the Friday, spend as little time as possible in the expo, which from previous races I'd find tiring. I'd also opted for an open top tour bus of the city the day before, rather than trying to navigate the sights on foot or via public transport. All part of my plan to save my legs.
The night before the race I was stood queuing outside a pasta restaurant not far from my hotel, which was packed with runners all having the same idea, and the heavens opened. There was a torrent of water flowing down the street. The next morning was only slightly better. The sky was grey and humidity at 99% as we stood on the start line in Tiergarten at 09:15. Great! I love running in the rain. It did little to dampen the atmosphere of the runners, who all seemed in good spirits, setting off the wheelchair participants with a thunderclap.
The Kenyan winner, Kipchoge's secret to success was apparently running an even-paced race (at that pace, I'd last 200m max). And while most runners know this is the best way to run any race, it's easier said than done. I've always had problems in previous marathons with slowing down after about 20 miles, sometimes to a painful crawl in places (London). Yet somehow, in Berlin managed to maintain my 5km times within a 22:30 average for the entire race. I passed through half way in 1:34:38. This had included an impromptu toilet stop, and I remember thinking to myself there was a good chance of a negative split because of this. I was hoping I would not hit the wall in Berlin, physically and literally. Fortunately, despite some feelings of cramp at 21 miles, which I overcame, I didn't. It was one of those days where the training, conditions and course all came together and I crossed the line in 3:09:32. A new PB and reversing my negative trend of declining marathon times.
2.5 years, 157.2 miles, 5 countries,
6 Marathons; Manchester, Amsterdam, London, Berlin I'd beaten my PB, in my thrird marathon of 2017… The big question…Which one next?
Joe Colligan