Beautiful Blaydon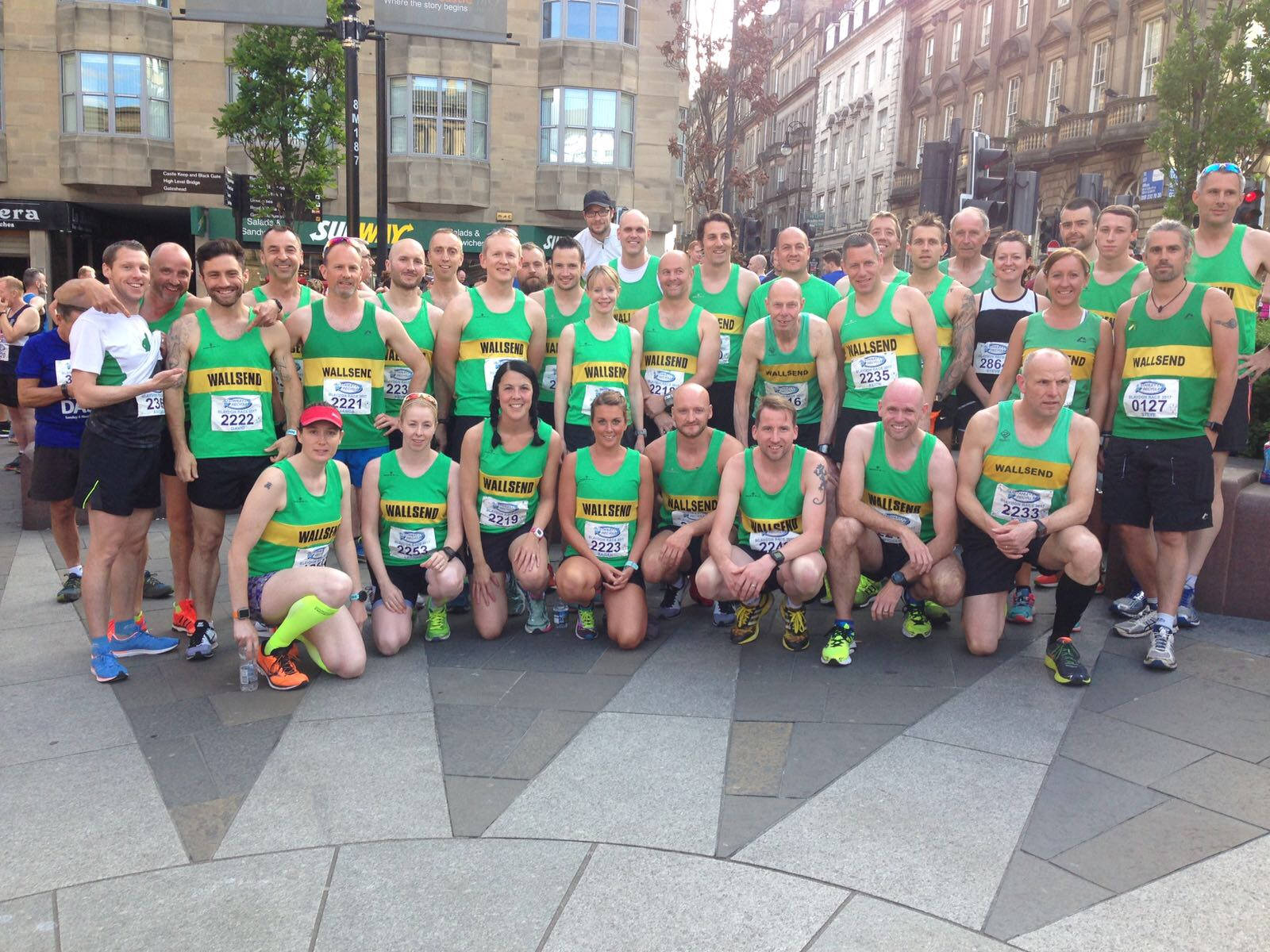 And so it was on the ninth of June 40+ Green and Golds poured into the Bigg Market on a warm June evening.
I've never seen armed police at Blaydon Race before. It was a sad but reassuring sight. And as we crammed into the pens, yards from the start I have to admit to feeling scared. I know I wasn't the only one. But we were there, me and thousands of others, ready to run. Not from them but for ourselves, for others, for PBs, enjoyment, a bottle of brown ale, to support a friend or loved one. Because that's what we do. The spirit of the North East running community will never be broken and that night showed just how strong we are.
The torrential rain we had been subjected to earlier in the week seemed to stop just for that evening. The sun found its way to the Toon but thankfully with a forgiving breeze all the way along the Scotswood Road. With lots of cheers, music and good crack, the miles seemed to tick steadily by and before I knew it my dedicated pacemaker (thank-you again Liam Smart) and I were giving it one last sprint(ish) towards the finish, trying in vain to get past Barry (nice one Bazza).
The 5.6 mile route is now firmly established so PBs were on the cards. I was happy with taking a good couple of minutes off mine and I'm sure there were plenty more had in the team. Oh my god I've just checked last year's results and I actually only took one second off (ha ha!!!!) A special mention to our tenacious triathlete Joe Collins who had a blinder of a race, coming in first for Wallsend in an impressive 33:04! Our youngsters Jack Armstrong and Oli Aird put in cracking performances too with times of 33:38 and 36:24 respectively. Super Sarah Robson was our first lady in 37:37 (and she was disappointed with that!!!) And last but by no means least, the comeback kid himself Brian Hetherington who was third v50-59 overall in a gob smacking time of 33:30!
Full results are here.
Thanks to all our supporters who gave us a much-needed boost along the way. A stottie and cheeky drink/s in the Old George ended a top night all round.
Thanks also to the lovely O'Donnells who have very kindly put some lovely pics on our Flickr page. Click here to view.