Joe's Mersey Mission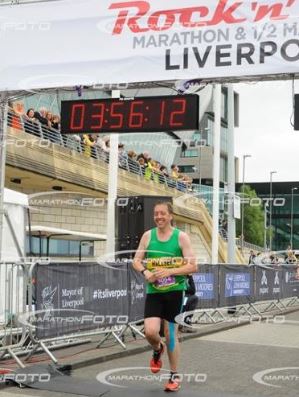 The idea
I've wanted to do a marathon for about 20 years now and just never set aside the time to train for one.   In December I was telling my future brother in law, Malcolm, about the disappointment of not getting into London again.  He suggested trying Liverpool as he was going to do it in May.  After a few drinks the seed had been planted and the idea seemed better and better the more we drank.
Training
Training was hard, really hard and I underestimated the amount of it I would have to do.  Over five months I ran nearly 600 miles.
I would go to club sessions on Tuesday and Thursday and on Wednesday I would do a run of 4-8 miles by myself.  Every Sunday would be a long run of 10-22 miles.  For this I tagged along with Kev for his 10 mile Sunday morning sessions and then would normally find someone else to do a couple of miles with afterwards.  If you've not done one of Kev's sessions before then I really can't recommend them enough.  The pace is steady, the chat is interesting, the sun always shines, it's never cold and nobody gets left behind…..unless you are called Kev, in which case we'll happily run off and leave you safe in the knowledge that he won't get lost.
Pre-race
I've probably bored the pants off most people in the last few months trying to get any tips or strategies for running your first marathon.  I've asked about pacing, nutrition, training methods, do's and don'ts and you've all be very patient with me.  Thanks for the support and knowledge from everyone at the club and I promise that I'll listen to it next time.
Start
There is something amazingly exciting about standing on a start line, whether there are six of you or 50,000.   I just love the buzz of it.  Due to the recent events in Manchester there was a minute's silence before we set off that was incredibly moving and I shed a tear or two.  Spontaneous applause then started and this helped get my game face back on.  The countdown started at about 10.15am and we were off.
First half
The first eight miles of Liverpool are a steadily deceptive uphill to Stanley Park.  I had a time in mind that I wanted to get to the eight mile marker in and was really happy to hit it nearly spot on.  There is then a fast two miles of downhill back into the city and the early morning crowd is there to spur you on.   The noise as you went past the Cavern Club really set the spine tingling and it was really hard not to put a bit of extra speed on.  You then have a bit of a climb at around the half way mark but I felt strong and the mile markers kept coming up quicker than I thought.
Mile 15
I've never felt as fit and strong in a race ever as I did at mile 15. I can vividly remember the feeling that I felt I could conquer the world. I did a quick calculation in my head that if I did the last 12 mile in an hour and 45 that I would get a time of around 3 hours 45. At this point I also remembered the advice of Julie Williams that if I felt like this I must under no circumstances increase the pace. Sorry, Julie I just couldn't help myself…..I should have listened! At mile 17 I passed a Tyne Bridge Harrier and thought this marathon running is a doddle…..idiot.
Mile 20
My friend Mick Kay told me that the halfway point in a marathon is 20 miles.  I had always assumed that he must have gone to the Alan Heslington school of maths but now I know he was right. The five quicker miles had taken their toll and I went from 8.30 minute miles down to 9.30 minute miles. Only 10k to go I told myself.  At around 21 miles the course took me down and up an underpass. The climb back up was at a snail's pace and I knew the last five miles were going to be tough.
The wall
At mile 22 you drop down onto the River Mersey for a last flat four miles.  Everyone you talk to about marathons mentions the wall.  I met my wall at mile 22. The urge to walk was strong. I gave myself a really strong talking to and repeated in my head 'don't give up, don't surrender' for about five minutes to get myself through it.
Mile 23
The Liverpool marathon sells itself as a rock 'n' roll marathon with bands every mile or so.   It's really good and helps pass the time listening to the music.  Some was good, some ok, some outright terrible.  At mile 23 there was a man singing the Morecambe and Wise song 'bring me sunshine'. I can't remember the last thing that made me so angry.  I had a good few minutes of swearing inside my head and coming up with suggestions of where he could put his sunshine.
Mile 24
Obviously mile 24 has a very special significance for a couple of Wallsend Harriers. As I passed this milestone I can now look back and marvel that Marie had the energy in her legs to get down on one knee to propose and still have the ability to get back up again.   I'm not so sure that my legs at this point would have been able to do the same.  It also made me think about my fiancé Kirsty and the support she has given me during my training.  I wouldn't have been able to do this without her.
Mile 25
At this point I had switched off my brain and was just concentrating on one foot in front of the other. I thought about trying to work out how much pain I had left in minutes but this seemed like too much work. I also told myself that if I started walking now that I'd still probably make it in less than 4 hours. Quite rightly I then told myself not to be so stupid.
Finish
I gradually came out of plodding mode and began to become aware that the noise was getting louder and I could look up and see the finish line in the distance about 300 metres away.   I don't really have the words to describe seeing the finish line. I think surprised was the initial emotion.  The adrenaline rush it gives you is like no other. I picked up my pace a little and just couldn't keep the big massive grin off my face. Something I've wanted to do for so long was finally done and in a time of 3 hours and 53 minutes and 53 seconds according to my watch. I was just so pleased with myself as someone hung a very heavy medal around my neck.
Post-race
The feeling of walking after so long running is really odd and the legs took a little while to get used to it. I shuffled into the arena where you can get water, crisps, banana and sweets. I looked jealously at the people who had the ability to sit on the floor and then get back up again. I really, really wanted a sit down but couldn't find a chair.  I picked up my bag and got my t-shirt, a very garish yellow that will keep my coach, Elaine Ashton, happy when the nights turn dark again. I had a free beer token but absolutely no wish to use it.  I don't think I've ever turned down free beer before.  I must have been delirious. I met up with Malcolm who had done the race in an incredible 3 hours and 28 minutes and I managed to find some stairs to sit on. At this point the cramps in my thighs started. It was excruciating and lasted for about 30 minutes.  Luckily I had some rehydration tablets in my bag and a couple of those with lots and lots of liquid made them go away. When the pain had finally gone it began to sink in what a massive achievement completing a marathon is.
Looking back I can see the mistakes I made and hope I wouldn't make them again but then again maybe not. Advice for anyone doing a marathon would be pace yourself. Picking up the pace at mile 15 was silly.  I also only took 3 gels with me and picked up another 2 during the race.  I don't think this was enough. By far the biggest mistake I made was to not drink enough water. The cramps afterwards were my own fault as given the heat of the day I didn't drink nearly enough.
If you are thinking of doing something longer distance then my suggestion is to go for it.   The sense of achievement and pride you will have at the end is more than worth it.  Go on…..you know you want to!
Joseph Hoben
May 2017